Kentucky Derby Betting Results Favor House As Disqualification Eliminates Favorite Maximum Security
/
It was the 4-1 favorite, Maximum Security who crossed the muddy finish line first at Churchill Downs Saturday afternoon, but the celebrations were short-lived for owners Gary and Mary West and jockey Luis Saez.
While camera crews were focused on Maximum Security as he paced around the course after what would have been his fifth win in five races, Jockey Flavien Prat who rode runner-up Country Horse was busy filing an objection to the results claiming that the winner had come out of his lane on the final turn obstructing the field's chances of a fair race.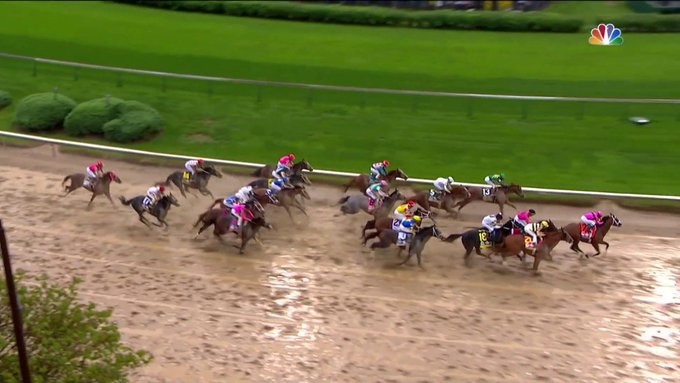 In a Kentucky Derby first, judges reviewed the footage and ruled in favor of Prat and disqualified Kentucky Derby odds favorite Maximum Securityfrom the race, making him the only horse in the race's 145-year history to cross the finish line first and not actually win.
To make things even more interesting, the victory was handed to the second place finisher Country House, a horse that entered the race at 65-1 odds.
With the favored horse having won the past six runnings of the Kentucky Derby, it is no surprise that many sportsbooks reported that it was, in fact, the favorite who was their biggest liability in the race.
"That was huge for us" shared Dave Mason of BetOnline. "While I am not 100% sure about the racebook numbers, speaking strictly on the fixed odds hanging in the sportsbook Maximum Security would have been a big loss for us. Country House ended up being a big win for us."
Situations like these often leave bettors feeling robbed or cheated out of what "looked like a win" and Dave went on to share that his team had decided to give bettors a break when it came to head-to-head matchup odds.
"When it comes to head-to-head matchup bets involving Maximum Security, we are going to grade both sides as winners."
After further deliberation, BetOnline decided to also grade all futures bets on Maximum Security as 'No Action', essentially voiding the bets and giving the ticket holders some comfort after having already felt like winners for 15 minutes.
This shocking result comes just days after the Kentucky Derby field was handed another setback, as the favored Omaha Beach was forced to withdraw due to a breathing issue.
While the chances of a Triple Crown winner look slim in 2019, we now eagerly await the odds for the upcoming Preakness Stakes to see just how the bookies expect things to play out on the track.
["source=forbes"]